MX Video Player v1.3 beta3 (Free version)
Requirements:
Android 2
.1 +
Overview:
MX Video Player is the best video player on Android platform. it plays almost every video files and every
subtitle
files with multi-core
decoding
capability.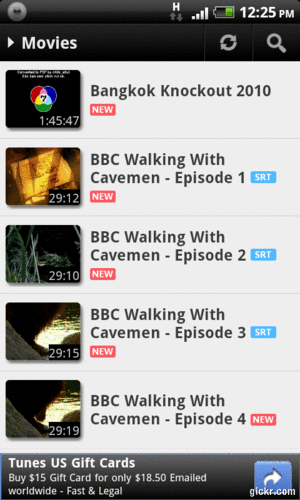 Key Features:
Multi-core Decoding - MX Video Player is the first Android video player that
performs
multi-core decoding. According to
test results
on dual-core devices, it showed up to 70% performance
improvement
over single-core decoding.
CPU Optimize - Provides CODECs and Rendering Engines highly optimized for processors including ARM® NEON™ and NVIDIA® Tegra™ 2.
Subtitle Scroll - When you scroll subtitle text, video playback position also will be changed to the text show-up position.
Clear Text - Increased subtitle readability with ticker border and shadow.
Finally v1.3 beta is released.
In this version, video playback screen is completely renewed, and screen
touch action can be selected among three choices. it will also look better
on Honeycomb devices.
As for video playback, Audio track can be changed even while using H/W
decoder
. so if H/W decoder cannot
play
audio or has secondary audio track,
you can now switch to another one.
And Russian, Japanese and
German language
interfaces are
added
to
Андрей Зябко, Ryunosuke Tanaka, Aleksander Danilov. (Please visit product
forum if you want to provide other language translation.)
Full Changes:
- Video playback screen is completely changed.
- Support Honeycomb.
- MKV will be played with sound on Tegra 2 devices.
- Audio Track can be changed while using H/W decoder.
- File extension can be manually managed.
- .nomedia file can be ignored.
- Prev/Next/Rewind/Forward buttons are added. (Rewind/Forwad buttions are
only displayed when turned on in the navigation setting.)
- Playback completion action can be choosen. it plays next video by
default.
- Portrait orientation is added.
- Disable on-screen brightness control (up/down on left half of screen)
while using auto-brightness control.
- Improved playback of MPEG-TS.
- Fixed screen black-out problem.
- Fixed lip-sync problem.
- Fixed low sound volume problem on 4 or more channel audio.
Download Instructions:
APK:
http://www.multiupload.com/1CBHGM5XAJ
http://www.mediafire.com/?apjpz0jwavmlcvw
Codec:
For ARMv5 Codec:
http://www.google.com/url?sa=D&q=htt...fdUSjWXxeI_5IA
For ARMv6 CPU's:
http://www.google.com/url?sa=D&q=htt...jzd2m-yoKhrvHQ
For ARMv6 VFP CPU's:
http://www.google.com/url?sa=D&q=htt...nhmGjoM01hxIJw
For ARMv7 CPU's:
http://www.google.com/url?sa=D&q=htt...eYNSv9QtjUn9nw