Swiss Army Knife v1.1.1
Requirements: Android 1.6 +
Overview:
This app contains a set of tiny tools: a
flashlight
, a ruler, a timer, a stop watch, a
compass
and a bubble level.
Each tool does what it is supposed to do. There's no space for special effects like 3d compass, talking level, psychedelic flashlight etc: the goal is to have a lightweight, fast and easy to use set of tools, one "tap" away from your home screen.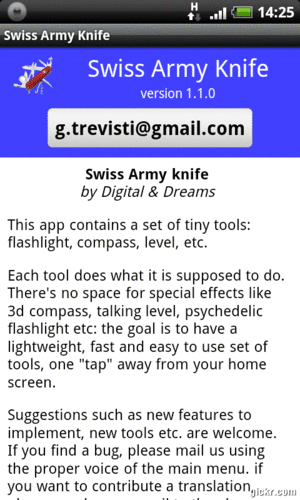 If you find a bug, please send us an email using the proprer main menu function.
If you only left a comment on the Android Market, it's
difficult
for us to solve the problem, because usually we need some information (such as smartphone type and version, a way to replicate the problem, etc.)
Note:
- Depending on the hardware capabilities of your smartphone, some tools may not be
present
- The
permission
to use the camera is
required
in order to turn on the camera flash LED. Some smartphones (for instance the Google Nexus S) don't light the flash LED if the camera is not running. If you check the most popular flashlight apps, you'll find out that they all require this permission. Swiss Army Knife doesn't shot any photos, doesn't save multimedia info onto the
flash card
and doesn't send anything on the internet: it doesn't require the network permission at all.
What's in this version:
-fixed localization problem
-fixed wrong priority for div operation
-other minor fixes